CASPR technology is an innovative "no-touch" disinfection technology that utilizes a Natural Catalytic Converter (NCC) to create Hydrogen Peroxide out of your ambient air.
These oxidizing molecules are actively in your environment protecting your air and surfaces. The molecules are safe enough for people, pets and plants, but effective against harmful pathogens, including SARS COV-2 responsible for COVID-19. This process naturally occurs outdoors, so Casper products help to recreate this fresh air feeling in any indoor environment.
Why CASPR?
Proven to kill pathogens by up to 99.96%
Produces no ozone
Runs 24/7 without an operator or chemicals
Requires no training or additional labor cost
Provides a safe healthy environment and peace of mind
Safe for occupied spaces and food preparation stations
CASPR Products
CASPR units are suited for all indoor areas where people live or work. Once installed and turned on, CASPER provides continuous air and surface protection for your entire facility. CASPER units come in a variety of sizes and typically a combination of units are used to cover a space.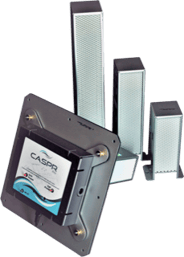 pro In-Duct
CASPER In-Duct is installed in the supply of your HVAC duct where it is able to provide facility-wide coverage. In-Duct units come in a variety of sizes designed to target a specific amount of square footage with the appropriate Parts Per Million (PPM) of oxidizing molecules.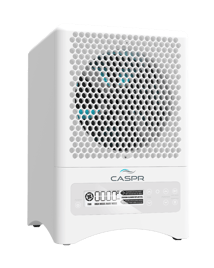 compact Unit
CASPR Compact is a plug-and-play solution that requires no installation - simply plug into your wall outlet and turn it on! With the push of a button, you are able to protect your surfaces and air space for up to 1,500 square feet. The CASPER Compact is less than a foot tall, weighs under 10 pounds, and plugs into any standard wall outlet. The Compact unit also has up to a 99.6% kill rate on surfaces and is effective against bacteria and viruses.

Siren Unit
CASPR is designed to be a permanently mounted unit, specifically for EMS, Fire, and Rescue vehicle applications. CASPER renders bacteria, viruses, mold, mildew, and other contaminants in the air, and on all surfaces, effectively harmless on a continual basis. Treatment from CASPER also eliminates odors to create a cleaner, safer work environment for emergency service personnel and their patients.

transit Unit
CASPR Transit has been designed specifically for buses and trains to substantially reduce microbial populations, utilizing the Natural Catalytic Converter (NCC) technology. CASPER Transit will keep the air fresh and continuously disinfect both in the air and on surfaces.
ideal candidates for CASPR
CASPR is your continuous air and surface disinfection technology that is up to 99.96% effective against molds, viruses, and bacteria. CASPER reduces odors & VOCs. Not only is installation simple and maintenance minimal, but their technology is automated to run without any interference, making just about every industry an ideal candidate for CASPER.
CASPR proudly serves industries such as:
Medical & Dental Offices

Schools

& Daycares

Restaurants & Hotels

Work Offices and Business Buildings

Gyms & Spas

Residential Homes

Transpiration Vehicles
want to learn more?
Click here to learn more about how CASPR's disinfecting technology is paving the way for a safer, cleaner environment.