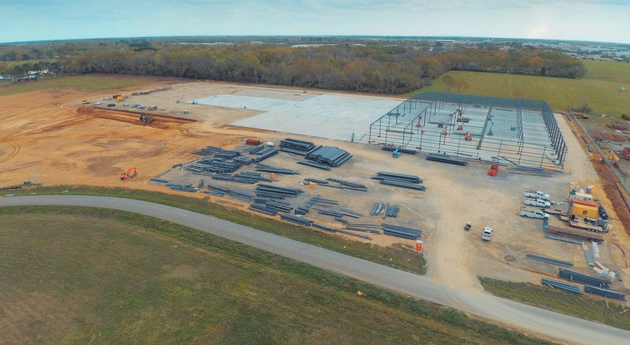 Over the past few months, a large area in Broussard, Louisiana has turned into a giant construction site, leaving people wondering, "What could they possibly be building?!" We're here to tell you that Ochsner Health is going into the personal protection equipment (PPE) industry and manufacturing two facilities in Louisiana. PPE stands for Personal Protective Equipment and is equipment worn to minimize exposure to hazards that cause serious workplace injuries and illnesses. Personal protective equipment may include items such as gloves, safety glasses, shoes, hard hats, respirators, vests and full body suits and more. Located in between HWY 90 and HWY 182 (Old Spanish Trail), the Broussard site is roughly 1 million square feet.
partners of the project

A project this big requires a lot of funds, so Ochsner Health has partnered with Trax Development on a joint venue to create SafeSource Direct LLC. SafeSource Direct makes quality personal protection equipment in America, unlike the foreign companies that we used to depend on, that in turn resulted in supply shortages. Their overall goal is to keep the nation's healthcare workers safe on the job (strengthen your immunity). SafeSource is investing 150 millions dollars to develop these PPE facilities as well as 73 million dollars for an manufacturing facility to house its headquarters in the Lafayette Parish. The state of Louisiana has also offered SafeSource Direct an incentive package for both sites which includes the comprehensive workforce solutions of LED FastStart, the nations top state workforce training and talent attraction program. The SafeSource Direct facilities are the latest in a series of investments in Louisiana in the medical care and equipment fields. SafeSource Direct will manufacture, warehouse, and directly distribute PPE for health care and other industries in Louisiana as well as nationwide.
During a conference announcing the news about the project, Governor John Bel Edwards said, "A year ago, states across the union were grappling with a shortage of personal protective equipment as the corona-virus spread. Even now, the need for PPE is great and that demand will continue for the foreseeable future. I am proud to say that, with this new project, Louisiana will play a key role in preventing the U.S. from facing such a shortage again."
opportunity's the project will bring

The construction of the facilities is already underway. The Lafayette Parish facility expected to commence commercial operations by the third quarter of 2021. Not only will this project a new source of quality PPE to protect front-line workers nationwide, but it will also provide thousands of job opportunities to our community. State economic development officials estimate the projects will create a combined 1,221 new direct jobs and 992 new indirect jobs, a total of more than 2,200 new jobs! The Lafayette facility will create around 245 new direct jobs which will result in 199 new indirect jobs. These jobs will include the company's headquarters and a manufacturing plant for surgical tie-masks, bouffant hair covers, shoe covers, isolation gowns, procedure masks and N95 masks. These positions are projected to be fulfilled by the end of the year 2023, with the hiring process beginning mid 2021. "A company of this size will not only boost our economy, but it will also create hundreds of competitive job opportunities for our citizens." said Mayor-President Josh Guillory of Lafayette Parish. Click here to explore the potential job opportunities of the Broussard facility. Neighboring with our friends at Jayhawk Creek Ranch, where you can book group hunting trips, perfect for the upcoming Dove hunting season.
About PES
PES (Practical Engineering Solutions), located in Lafayette, Louisiana, provided PE review/stamp and mechanical engineering services on this project. PES will always be dedicated to providing top-notch customer service to meet our industry demands.
We set ourselves apart with our consistency and timely turnarounds. We are always committed to being responsive to our clients, KEEPING OUR PROMISES, making delivery schedules, and standing by our designs!
From concept, design, and engineering, to project management and integrity services. We are your gateway to your journey's engineering endeavors. Including oil & gas, hemp & CBD, and food industries.
Providing services focusing in Facilities Engineering, Turn-Key Solutions, Downhole Tools, Structural Engineering, Civil Engineering, Commercial Construction Design and Engineering, Direct Lithium Extraction, and Drafting & Design.
---
References
Ochsner Health Constructing New 1+ Million Square Foot PPE Facility In Broussard, LA - https://developinglafayette.com/wp/ochsner-health-constructing-new-1-million-square-foot-ppe-facility-in-broussard-la/
Personal Protective Equipment Facility - https://www.katc.com/news/lafayette-parish/officials-to-make-major-economic-development-announcement-in-broussard
SafeSource Direct - https://www.safesourcedirect.com/