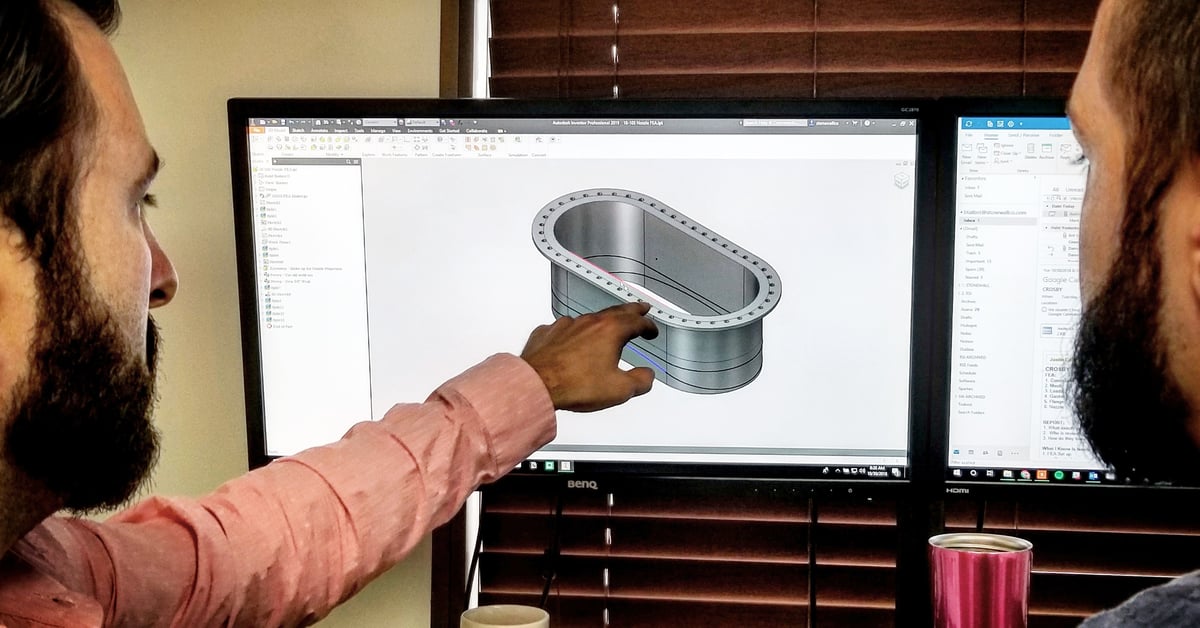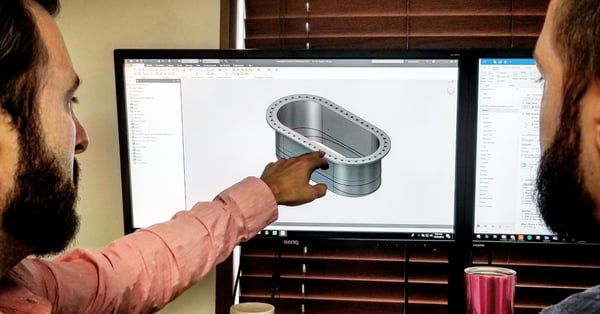 Do you know why you would hire a professional engineer?
In my years of experience, and while at Stonewall, I would say most people do not understand the benefits associated with hiring an engineering firm. In most cases it is not necessary but if you are not strategic in your decision, it may cost you your business.
In this article, we outline 5 reasons why you should consider hiring outside help for your product development and design.
To understand why you should hire a PE, you must understand what it means.

WHAT IS A Professional Engineer STAMP AND WHAT DOES IT MEAN?
First and foremost, it proves that you have the ability to learn and wherewithal to engage in continuous learning.
To a client, it means you've got the credentials to earn their trust.

To an employer, it signals your ability to take on a higher level of responsibility. Among your colleagues, it means you have the ability to earn their respect.

To yourself, it's a symbol of the responsibility you have agreed to in ensuring the safety of the public (and avoid injuries).
Becoming an Engineer-In-Training (EIT) is the first step.
Engineer in Training, or EIT, is a professional designation from the National Council of Examiners for Engineering and Surveying (NCEES). The term EIT designate a person certified by the state as having completed two requirements:
Completed a minimum of three years of post-secondary school at an ABET-accredited engineering program.
Passed the NCEES six-hour[1] Fundamentals of Engineering (FE) Examination.
To become licensed, engineers must complete a four-year college degree, work under a PE for at least four years, pass two intensive competency exams and earn a license from their state's licensure board. Then, to retain their licenses, PEs must continually maintain and improve their skills throughout their careers.

Yet the results are well worth the effort.
By combining their specialized and practical skills, with their high standards for ethics and quality assurance, PEs help make us healthier, keep us safer and allow all of us to live better lives than ever before.
To use the PE seal, engineers must complete several steps to ensure their competency.
Earn a four-year degree in engineering from an ACCREDITED ENGINEERING PROGRAM

Pass the Fundamentals of Engineering (FE) exam

Complete four years of progressive engineering experience under a PE

Pass the Principles and Practice of Engineering (PE) exam
What makes a PE different from an engineer?
PEs must also continuously demonstrate their competency and maintain and improve their skills by fulfilling continuing education requirements depending on the state in which they are licensed.
Only a licensed engineer may prepare, sign and seal, and submit engineering plans and drawings to a public authority for approval, or seal engineering work for public and private clients.

PEs shoulder the responsibility for not only their work but also for the lives affected by that work and must hold themselves to high ethical standards of practice.

Licensure for a consulting engineer or a private practitioner is not something that is merely desirable; it is a legal requirement for those who are in responsible charge of work, be they, principals, or employees.

Licensure for engineers in government has become increasingly significant. In many federal, state, and municipal agencies, certain governmental engineering positions, particularly those considered higher level and responsible positions, must be filled by licensed professional engineers.

Many designs, across multiple industries (including the engineering industry, of course), require a PE stamp before it can ever be put into service. Example: Offshore Managed Pressure Drilling Design (DNV, ATEX, CE), Oil and Gas Separating equipment, and Disaster Recovery Services.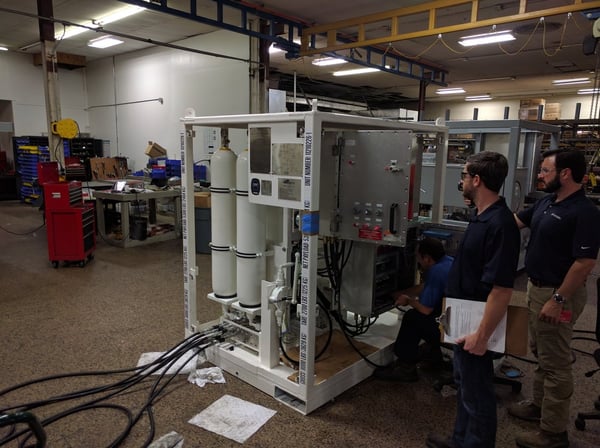 5 reasons why you

should hire a Professional Engineer?
Many brilliant inventors with no engineering background have developed successful businesses based on innovative products that have been overlooked by larger companies with teams of experienced engineers.
Unfortunately, there are at least as many inventors who have developed businesses that have failed to realize their potential because their brilliant product ideas were not successfully taken from conceptualization to realization.
The decision whether or not to hire a PE to turn a product idea from a vision to a reality is one that every business or independent inventor has to face at some point, even if they are not conscious of making it.
There are a couple of factors that businesses must take into account when determining if hiring a team of outside engineers will be a necessity or a waste of capital that could otherwise be spent on marketing or manufacturing their new product.
1. Engineers can be necessary to DEVELOP A PRODUCT that is not going to fail.
This is possibly the most obvious reason why a business may need to consult with an engineer when they are developing their new product, prototype or working on a machine retrofit.
If a product fails under anticipated working conditions, it will lead to serious customer satisfaction and potential lawsuits.

For example: Civil engineers have their work cut out for them because they are responsible for designing structures that could withstand all sorts natural disasters including earthquakes which make this job incredibly challenging. With the use of technology and modeling software, civil engineers are able to design, model and test their structures before completion.

Another example: Mechanical engineers conduct FEA simulations and calculations to analyze when designing equipment like jigs and fixtures.
An engineer will identify a factor of safety and conduct a stress analysis and design testing (Factory Acceptance Test) to minimize the risk of the product failing under normal operating conditions.

2. Engineers can help reduce the disadvantages associated with "over-designing" a product.
Amateur inventors are often unsure about product specifications and use overly conservative dimensions to make them safer or more reliable. The most obvious concern with this approach is that it tends to lead to a more costly design.
However, there are other concerns related to over-designing a product that may not be at the front of a designers mind.

One example would be associated with downhole Tool applications.
Amateur inventors or experimenters may develop a downhole tool with what they believe to be a safer and more conservative design, but when the product is too large and bulky it may not be able to fit in the desired casing or tubing.
An experienced engineer can help work within the design threshold for the application, making sure that the downhole tool has the strength to withstand the functionality but also is small enough that it can be reasonable to meet the tight design requirements.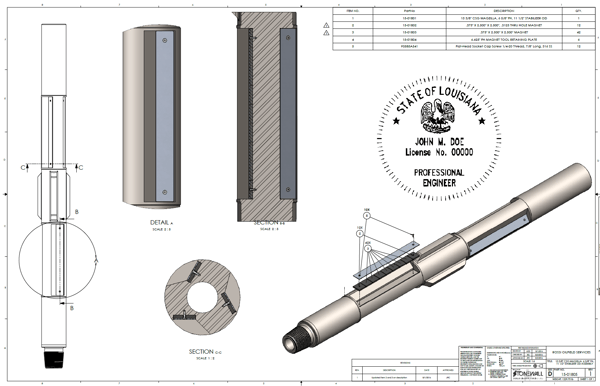 3. A PE can defend the business against potential lawsuits.
If the business can show that it did its due diligence and was concerned enough to hire an engineer to develop a good design, they may be able to use that as a defense in the unfortunate event that there is a mishap with the product.
4. An engineering firm can provide networking opportunities.
Engineers may be familiar with other firms or companies that can use the products they are consulting with.
They can also be a good referrer to other businesses and manufacturers.
5. Improves brand image.
A sometimes overlooked benefit of hiring an outside firm is that it can give the business and it's products a more professional perception. If clients are aware that the product was designed with the input of a well-respected engineering firm, they will perceive the product as having high quality.
Many businesses have successfully adopted new technology for their customers. However, as the projects they work on become more complex, it often becomes more necessary for them to work with an engineering firm.
A sound business team will know when it is necessary to work with an outside team of engineers in order to make its new technology projects successful.
6. Offers great critical thinking skills
Successful Professional Engineers have the ability to use tools to mobilize their data for better performance and higher valuations.
Business Intelligence is now more accessible than ever as a way for private equity firms and their portfolio companies to get the information they need in order to help them make informed decisions about how best to move forward. When organizations rationalize their data, this helps provide them with an effective toolset that can transform them into successful entities.
LETS INNOVATE TOGETHER
If you need help deciding on whether you need a PE for your next project, contact us and we would be delighted to help you decide.
Is the PES right for you?
At PES, we are always looking for talented engineers and designers.
If you are passionate about precision design and tireless in your pursuit of customer satisfaction, you've come to the right place.
Are you ready to make a career change and seeking for practical experience?
Are you an entry-level college intern ready learn more about the real world and practical challenges?
Learn more about real-world designing and engineering applications.
Sign up today!
---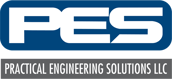 Practical Engineering Solutions will always be dedicated to providing top-notch customer service to meet our industry demands.
We set ourselves apart with our consistency and timely turnarounds. We are always committed to being responsive to our clients, KEEPING OUR PROMISES, making delivery schedules, and standing by our designs!
From concept, design, and engineering, to project management and integrity services. We are your gateway to your journey's engineering endeavors. Including oil & gas, hemp & CBD, and food industries.
Providing services focusing on Facilities Engineering, Turn-Key Solutions, Hemp Facilities, Food Plant Engineering, Manufacturing, Engineering Services, and Drafting & Design.